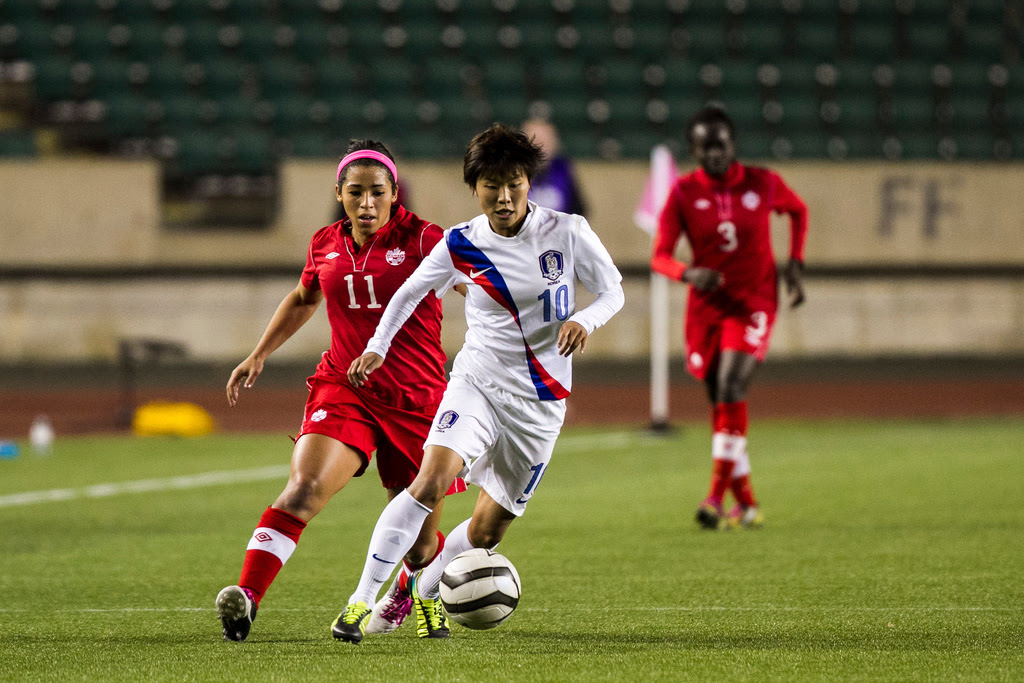 China PR and Korea Republic are the first two nations to qualify for the FIFA Women's World Cup Canada 2015. Both nations qualified on Saturday 17 May through the 2014 AFC Asian Women's Cup in Ho Chi Minh, Vietnam.
Five Asian nations will qualify for the FIFA Women's World Cup Canada 2015 from 17-21 May. Two more nations will qualify on Sunday 18 May plus one more nation will qualify on Wednesday 21 May.
China advanced to a place in the semi-finals of the AFC Women's Asian Cup and booked thier ticket to the 2015 FIFA Women's World Cup with a 3-0 victory over Myanmar on Saturday at Thong Nhat Stadium. Goals from Ren Guixin and Ma Xiaouxu either side of half-time put the eight-time continental champions in the driving seat before striker Yang Li netted her tournament-leading fifth in the dying minutes to add gloss to the scoreline.
China coach Hao Wei was not as concerned with the margin of victory as some observers.
"We tried to rotate our players a little in this game and my aim was to give different players a chance to perform on the field, so I am not too worried about the margin of victory, simply that we achieved it."
At the same time Korea was overwhelming Thailand 4-0 on the strength of Park Eun-sun's hat trick. Park's strike partner Ji So-yun gave the Taegeuk Nangja the lead after just 10 minutes before the 5 feet 11 inches powerhouse took over and netted her treble to put the tie beyond the reach of a resilient but overmatched Thailand side.
Coach Yoon Duk-yeo was full of praise for his striker.
"Park Eun-sun has both phenomenal speed and power, but she is also very smart in how to use these assets to help her score goals. She will be crucial in the latter stages of the competition and also at the World Cup. I really feel she can light up the world football scene, which is important as it shows that Asian women can play at the very highest level."
In all, 20 nations from Asia participated in the FIFA Women's World Cup Canada 2015™ Qualifiers, with earlier rounds played in May and June 2013. The eight final teams in the hunt for a Canada 2015 ticket are Australia, Japan, Jordan, Vietnam, China PR, Korea Republic, Myanmar and Thailand.
The AFC Women's Asian Cup runs 14 to 25 May. The nations are separated into two groups, so the top-two nations from each group will qualify for the FIFA Women's World Cup Canada 2015™.
Along with four nations that qualify through the group phase, a fifth nation will qualify through the match for 5th place on 21 May. That match will feature the third-place nation from each group. The full match schedule for the competition has been published on the-afc.com.
From 4 April 2013 to 27 November 20