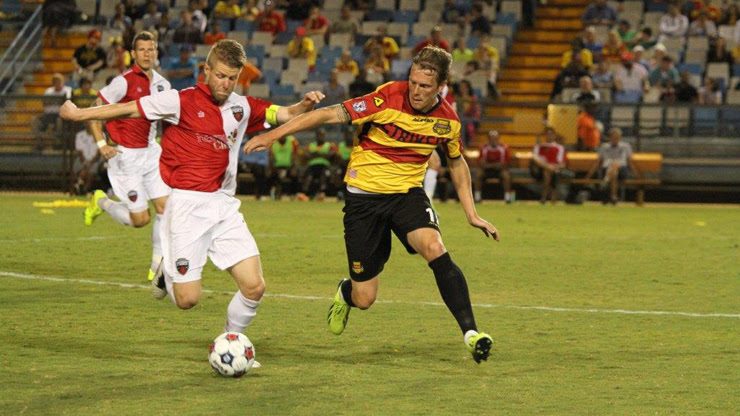 Fury FC Release – The long anticipated arrival of professional soccer began for Ottawa Fury FCSaturday night in Fort Lauderdale and despite a strong first half the storied Fort Lauderdale Strikers took a 2-0 victory. A 13th minute goal from centre back Rafael Alves got the Strikers going and a late conversation from defender Darnel King propelled the Strikers to the top of the NASL table after the opening night of the season. Fury FC will return to the Nation's CapitalSunday afternoon focusing on their home opener against Minnesota United FC on Saturday, April 19 at 3pm. Keith Harris Stadium at Carleton University is expected to be sold out as professional soccer launches in Ottawa.
The game started like a chess match as both sides looked to determine the strengths and weaknesses of their opponents. A promised, Fury FC played a possession game from the get-go with that was highlighted by several quick runs down the right side by Carl Haworth. Haworth proved to be a threat early on as his quickness saw him pass Strikers captain Ivan Guerrero on several occasions. After Vini Dantas had a good chance the Strikers would get one of their own with a free-kick from 20 yards out. Mark Anderson's delivery skipped along the ground bouncing of several legs before finding an unmarked Rafael Alves at the back post who slid home the opening goal putting the home side ahead 1-0 in the 13th minute.
Despite the repetitive moniker of being an 'expansion' side, Fury FC responded well as their continued their possession-based attack. Ottawa's response would ask Strikers newcomer Oka Nikolov to make several key first-half saves as his near 20 years of experience in the Bundesliga showed on Saturday night. Nicki Paterson had a free kick just miss wide at the back post and would later be denied by Nikolov on a bouncing shot from 20 yards. Goal scorer Rafael Diaz would go down with an injury late in the half and would not return after halftime. Ottawa went to the locker room with plenty of positives owning a majority of possession with the Strikers chances only coming from set pieces.
It was a fast-paced start to the second half with Vini Dantas rifling a powerful low shot from the top of the box, but was denied by a diving Nikolov. The Strikers proved a different side in the second half with playing a more possession-based game and hitting Fury FC on the count on several locations. Centre backs Omar Jarun and Mason Trafford made several timely challenges to keep the score line close. Trafford would be named 'Man of the Match' for Fury FC by the TSN 1200 broadcast team that aired Saturday's season opener on 580 CFRA.
Dos Santos would go to his bench looking to inject some life into the offence with Pierre-Rudolph Mayard coming into the game whose speed and experience made an immediate impact winning Ottawa a couple corners and free kicks. Ten minutes later Tony Donatelli would come into the game as the Fury looked to push for an equalizer. Despite the new additions, the Strikers counter attack prove success as Darnell King found space behind the Fury FC backline and despite a claim for offside King received the ball and went in on the breakaway and while being denied by a fantastic save from Devala Gorrick on his first attempt, King slotted home the rebound to put Fort Lauderdale ahead 2-0 in the 80th minute. Ottawa would earn several late free-kicks and corners, but were unable to net their first-ever NASL goal.
Fury FC will travel home on Sunday and following a well-deserved off-day on Monday after two-weeks of camp in Sunrise, they return to the training pitch at Carleton University on Tuesday morning. Ottawa will prepare to face Minnesota United FC who blanked San Antonio 2-0 tonight in their season opener.Saturday's launch of pro soccer in Ottawa is expected to be a sellout at Carleton University.