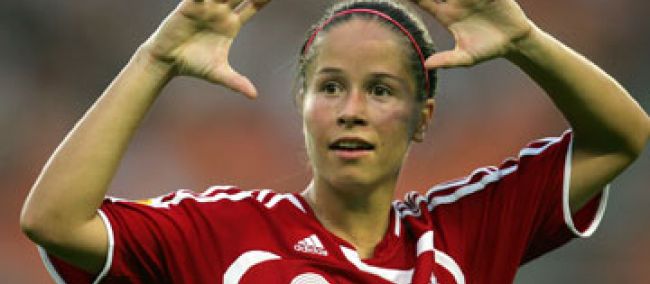 West Ottawa Soccer Club Release – Ottawa, ON April 21st: The West Ottawa Soccer Club (WOSC) announced today that it has named former Canadian international soccer star and Ottawa native Kristina Kiss as its Technical Director, following her successful term with the Club in various technical leadership roles. Through this important appointment, WOSC signals its intent to continue to provide the top quality technical leadership required for the development of its representative and house league athletes and coaches https://www.bon-vpn.fr/.
Kiss, a proud member of Canada's Women's National Team at two FIFA Women's World Cups has earned 75 caps for her country. She assumes her new role immediately, having previously worked as WOSC Club Head Coach and Acting Technical Director.
Kiss was elated with the opportunity to bring her rich brand of football leadership to bear in the Club's highest technical position. "Through my years with the Club, I myself was fortunate to further develop personally and professionally," she stated. "I have continued to work hard on honing my football skills on and off the pitch, and am unreservedly convinced that I am ready to lead WOSC as the second largest soccer club in Canada to the next level."
She also embraced the opportunity to collaborate with the technical team in place, while emphasizing that as it progresses through its building process the Club will increasingly become a destination for other quality technical staff. "Having the expertise and experience of Cathy Briggs (Micro U4-U7), Traian Mateas (Mini U8-U11), and David Hannah (U13-21) to draw from is a fantastic asset for WOSC and for myself," she opined. "With WOSC's strong technical vision to revolutionize the pathway for player development and partnering with key groups like the Ottawa Fury FC and Capital United FC, I am convinced we will continue to grow, while going from strength to strength."
Kiss' appointment marks the next phase in the Club's leadership evolution in consideration of the diverse technical requirements of a Club that has been a consistent leader in the implementation of the Canadian Soccer Association's Long Term Player Development (LTPD) framework. As one of the foremost female football minds in the country, she will provide thousands of WOSC warriors with a powerful role model to look up to.
"The West Ottawa Soccer Club continues its dramatic transformation, which began at time of our merger in 2010," stated Brian Mason, WOSC President. "Our Club is proud to have been able to secure the homegrown leadership qualities that Kristina has developed over a football lifetime and refined, while working with WOSC over the last 3 years."
Kiss is already well accustomed to the balancing act the TD portfolio requires and she has quickly made provisions to lead the Club's soccer development efforts in collaboration with her team of technical staff colleagues, paid and volunteer coaches, while ensuring that her on-field presence as head coach of two WOSC teams, including the flagship OPDL U13 Girls' team, is prominently factored in, as well. To top things off, she will always have an eye on future program cycles and requirements and support WOSC CEO Bjorn Osieck in the implementation of pertinent strategies.
"Just like we are preparing our players to graduate to higher levels of football opportunities, we are also looking to create future leaders within our staff team," pointed out CEO Bjorn Osieck. "Kristina's appointment as WOSC's new TD is the logical consequence of this succession focus and her local connectedness paired with international football pedigree makes her an ideal choice to lead our Club's technical programs into a bright future."
"As Technical Director Kristina will be able to bring her experience, skill, and creativity to the table, supported by our highly skilled full-time coaching staff, an armada of volunteer coaches, access to premium indoor and outdoor facilities, and a healthy annual budget for technical programs and services," Osieck added. "Her drive will be pivotal for WOSC, as we are striving to attain our vision of leading the way in the development of players, coaches, and referees in Ontario and across Canada," he added.