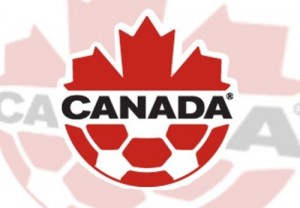 One game into the 2012 Olympics and while the hopes of the Canadian Women's team are not on life support after a 2-1 loss to the reigning World Cup champion Japanese those hopes certainly have been tempered from the usual cheer leading, unbridled optimism that seems to follow if not hamper this particular group of players.
Today's result, does not eliminate the Canadians and a reachable 4 points at a minimum from a win against South Africa and a result against Sweden plus a decent goals difference would likely see the team through to the final eight.
Now to be sure, the Canadians were not terrible in their opening match (this was not the World Cup effort redux) but as the second Japanese goal settled into the back of the temporarily abandoned Canadian goal there was the palatable sense of déjà vu. We'd seen this all before in a major international competition and the story does not end well for the women carrying Canadian soccer hopes.
Simply put they were not on the same level as their opponents technically, mentally physically or tactically. The 2-1 final score flattered to deceive a bit as the Canadians could easily have been down 3-0 but for the goal line clearance of Lauren Sesselman that kept Canada in the game but ultimately Melissa Tancredi's goal in the 55th minute did not change the final result or the seeming inevitability of the Japanese win.
Both of Japan's goals came the result of that deadly combination of good technical play by an opponent and poor decision making and technical errors by the Canadians. (You can watch the highlights here: http://www.ctvolympics.ca/videos/watch/soccer-jpn-can.html )
The first when right back Rhian Wilkinson was slow to track Nahomi Kawasumi and that combined with impressive design of an exquisite back heeled pass from Shinobu Ohno sent Kawasumi in 1v1 with Erin McLeod who compounded the defensive error by going down early and backwards on the shot. The second the result of McLeod rushing off her line in a failed attempt to punch clear a long, accurate cross, missing badly and having Aya Miyama head into the empty Canadian goal.
Out shot 11-4, getting only three of those shots on net and failing to generate any corner kicks are perhaps the simplest measures of how thoroughly for the most part Canada failed to generate any real threat on the Japanese goal.
Their go to player, Christine Sinclair, surrounded by as many as five Japanese defenders when she did get the ball was effectively marked out of the contest thus exposing the Canadians biggest weakness – their inability to generate any real offensive threat if Sinclair is well defended. Both the South African and Swedish coaching staffs if they did not know before certainly do now that all roads to success for Canada go through Sinclair and if you block that road Canada is in trouble.
Despite all these short comings you cannot lay complete blame on the players or the staff – they are doing their best, have put in the training hours and dedicated and sacrificed themselves to a pursue a seemingly elusive dream that always seems just beyond their grasp. No as the old adage says "When you point one finger, there are three fingers pointing back to you."
Those three fingers point at not individuals per se but a system of neglect, sheer incompetence and misguided efforts that failed these players in their formative years a decade ago and continues to fail the next generation of players today. The basic lack of quality in technique and decision making is easily hidden against the also rans of women's soccer but against the best these deficiencies show through time and time again.
The stagnation of the women's game in Canada and growth in Japan is reflected perfectly by the much maligned FIFA rankings. In 2003 Japan was ranked 14th in the world and has since shown steady almost constant annual progression to their current ranking of third.
On the other hand Canada's progression from 11th in 2003 to their current ranking of seventh has had more ups and downs than a new couple's toilet seat. In 2003 Canada was ranked 11th, fell to 13th two years later, moved back to 11th the following year then reached ninth in 2007, fell again two years later to 12th…. reached as high as sixth and as low as ninth in 2011 and has most recently settled at 7th.
No one takes the FIFA rankings too seriously but in this case they paint the perfect picture of a program that has stumbled from one crisis to another, some external some self inflicted, with the end result being a program that is just not good as it should and could be at making world class soccer players. We may not have been made for this but we have no one to blame but ourselves.