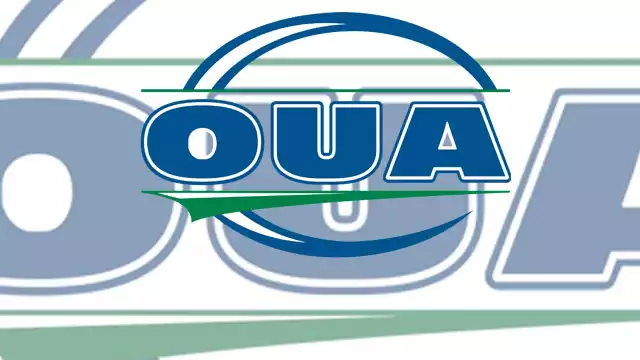 OUA Release – VAUGHAN, Ont. – After not having suited up in over six months it took a while to shake of the rust, but once the players in the Ontario University Athletics Men's Soccer Showcase got rolling they provided the fans at the Ontario Soccer Centre with a show, as the West claimed a 2-1 win in the second annual event.

Carleton's Joey Kewin (London, Ont.) opened the scoring the in the 23rd minute with a powerful strike from 18 yards out to give the East a 1-0 lead.

Seven minutes later, Guelph's Tim Flynn (Scarborough, Ont.) corralled a cross from Ryan Garnett (Kitchener, Ont.) of the McMaster Marauders. Flynn chipped a shot over the keeper to pull his West squad even at one goal apiece.

Both teams pushed for a go-ahead marker as the half wound down. The East would have the best chance when, with eight minutes remaining, Ryerson forward Armin Tankovic (Mississauga, Ont.) found himself alone at the top of the box with the ball at his feet. Tankovic released a blast headed for the bottom corner, but West keeper Sotiri Varlokostas (Toronto) made a diving save to preserve the 1-1 tie heading into the break.

The score remained knotted at one for most of the second half. The East dominated the opportunities but were denied by Varlokostas and the revolving cast West defenders, which included Justin Springer (Burlington, Ont.) from Guelph, Nicholas Vecchi (Niagara Falls, Ont.) from McMaster and York's Casey D'Mello (Mississauga, Ont.)

It would be the West who netted the first and only goal of the second half. In the 80th minute, Flynn sent an angle pass to a streaking Garnett who outraced the defender and buried the sliding strike to give the West squad a 2-1 lead; one which they would not relinquish.

Sunday's game wraps up a successful weekend that saw OUA and the Ontario Youth Soccer League join forces to host both the Men's and Women's Showcase, which allowed the OYSL's up-and-coming soccer talent see the quality of the university game.

MEN'S TEAM WEST
| | | | | |
| --- | --- | --- | --- | --- |
| # | Name | School | Position | Hometown |
| 10 | Sammy Orlando | Brock | MF | Woodbridge, Ont. |
| 3 | Davon Greave | UOIT | D | Brampton, Ont. |
| 3 | Tim Flynn | Guelph | MF | Scarborough, Ont. |
| 15 | Justin Springer | Guelph | D | Burlington, Ont. |
| 2 | Ryan Garnett | McMaster | MF | Kitchener, Ont. |
| 3 | Nicholas Vecchi | McMaster | D | Niagara Falls, Ont. |
| 11 | Andrew Walton | Western | D | Toronto, Ont. |
| 9 | Mike Pio | Windsor | F | Windsor, Ont. |
| 21 | Christian Mayorga | Windsor | MF | Windsor, Ont. |
| 25 | Chris Suta | Windsor | D | Windsor, Ont. |
| 15 | Jonathon Lao | York | MF | Unionville, Ont. |
| 22 | Sotiri Varlokostas | York | GK | Toronto, Ont. |
| 8 | Carlos Nogueira | York | MF | Brampton, Ont. |
| 11 | Joey Ciccillo | York | S | North York, Ont. |
| 9 | Mark Anthony Kaye | York | MF | Toronto, Ont. |
| 2 | Casey D'Mello | York | D | Mississauga, Ont. |

Coaches: Carmine Isacco – York
Keith Mason – Guelph
MEN'S TEAM EAST
| | | | | |
| --- | --- | --- | --- | --- |
| # | Name | School | Position | Hometown |
| 6 | Julian Piccioli | Carleton | D | Ottawa, Ont. |
| 15 | Joey Kewin | Carleton | MF | London, Ont. |
| 4 | Mintcho Mintchev | Carleton | MF | Ottawa, Ont. |
| 21 | Andrew Latty | Carleton | S | Ottawa, Ont. |
| 19 | Omar Allison | Laurentian | MF | Brampton, Ont |
| 15 | Cameron Brooks | Laurentian | D | Whitby, Ont. |
| 10 | Cale England | Nipissing | MF | Carleton Place, Ont. |
| 22 | Christian Maraldo | Ryerson | GK | Mississauga, Ont. |
| 2 | Michael Jan | Ryerson | D | Toronto, Ont. |
| 9 | Viktor Anastasov | Ryerson | F | Toronto, Ont. |
| 5 | Joshua Kohn | Ryerson | D | Richmond Hill, Ont. |
| 10 | Alex Braletic | Ryerson | S | Thornhill, Ont. |
| 7 | Armin Tankovic | Ryerson | F | Mississauga, Ont. |
| 10 | Veljko Lukovic | Toronto | MF | Belgrade, Serbia |
| 5 | Devon Bowyer | Toronto | D | Toronto, Ont. |
| 36 | Mario Kovacevic | Toronto | MF | Woodbridge, Ont. |

Coaches: Sandy Mackie – Carleton
Filip Prostran – Ryerson