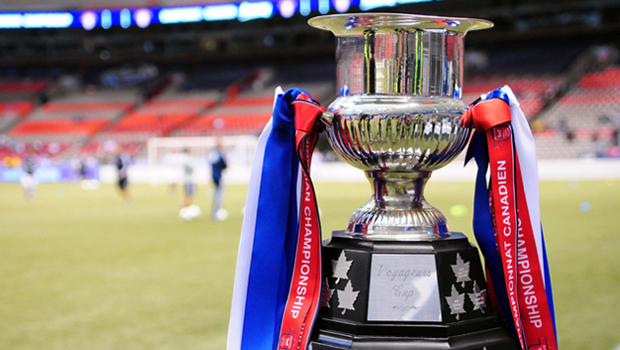 CSA Release – The seventh edition of the Amway Canadian Championship is set for its kickoff one week from today, with the first of two preliminary round matches between Ottawa Fury FC and FC Edmonton to be played on Wednesday 23 April at 19.30 local time in Ottawa, ON.
For the first time since the inception of the competition, the Championship will feature a preliminary knock-out home and away round between FC Edmonton and the most recent addition to NASL Ottawa Fury FC. The two clubs will face off in Ottawa next Wednesday, then again on 30 April (19.30 local) in Edmonton, with the team scoring the greater aggregate of goals over the two matches moving on to the semi-final round.
These two preliminary round matches will be streamed lived on canadasoccer.com/championship.
As per previous years, the semi-final stage of the competition will be played on a home and away knock-out format in which the highest ranked team will play at home in the second leg. The team which scores the greater aggregate of goals in the two matches qualifies for the final.
The first leg of the semi-final round will be played on 7 May, when the winner of the Ottawa Fury FC and FC Edmonton play-in round will host the Montreal Impact (kickoff 19.30 local, venue to be determined) while the Vancouver Whitecaps FC will be visiting Toronto FC at BMO Field (kickoff 19.30 local).
The return leg of the semi-final round will then see the same teams traveling to play their opponents at home on 14 May, with Montreal Impact hosting at Saputo Stadium (kickoff 19.30 local) and Toronto FC visiting BC Place to face the Vancouver Whitecaps FC (kickoff 19.30 local).
The semi-final round seeding has been determined according to the three MLS clubs' final position in league play for 2013, with the winner of the preliminary round entering the competition seeded in fourth place.
Matches in both legs of the semi-final round will be broadcast live on Sportsnet One.
The final home-and-away that will crown the Championship winner will be played on 28 May and 4 June, and also be broadcast on Sportsnet One. The team that comes on top on aggregate for the two matches will be declared champion and earn the right to represent Canada in the 2014-2015 CONCACAF Champions League.
Additional information on the competition can be found on canadasoccer.com/championship.
Fans are encourage to follow @CanadaSoccerEN on Twitter using #canChamp for tournament updates, but also to connect with the five Canadian professional clubs involved for live match coverage (@impactmontreal, @OttawaFuryFC,@torontofc, @FCEdmontonNow, @WhitecapsFC). Match highlights and reports will be available oncanadasoccer.com/championship as well as on CanadaSoccerTV.