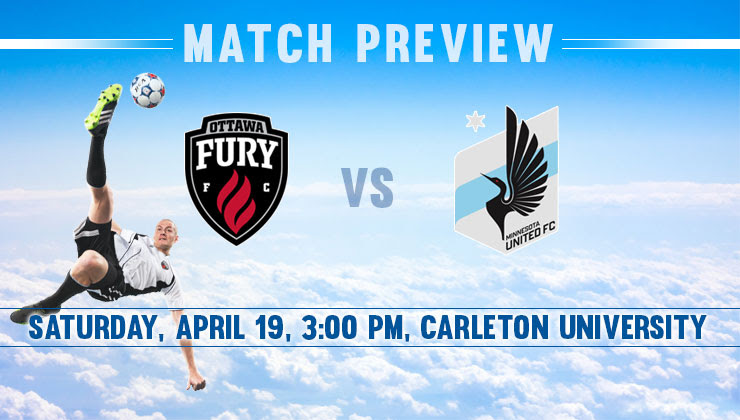 Fury Press Release – The season opener didn't go entirely accordingly to plan, but for Head Coach Marc Dos Santos and his players there were plenty of positives to take away from the club's North American Soccer League debut last Saturday in Fort Lauderdale.
Fury FC carried over 70% possession in the opening half and 64% of the possession throughout the 90 minutes. Nicki Paterson, Vini Dantas and Maykon all earned scoring changes, but were unable to find the back of the net. Goalkeeper Devala Gorrick also proved his worth in the NASL making several timely saves to keep Fury FC in the game.
The central defensive tandem of Omar Jarun and Mason Trafford worked well for Fury FC as the pair were in sync all game long with both making several timely tackles to thwart a series of threats from the Strikers attack.
Keith Harris Stadium at Carleton University will be sold out and expect the three supporters groups – Bytown Boys Supporters Club, Stony Monday Riot and Fury Ultras – to bring the noise and serve as the all-important 12th man.
It was announced late Wednesday that Ottawa will be without the services of forward Tom Heinemann for 4-6 weeks due to a high ankle sprain that was sustained in the club's final preseason match against Floridian FC on April 5.
Saturday's match will mark the second straight road game for Minnesota United FC, who blanked the San Antonio last weekend to deny the Scorpions victory in their home opener. The Loons are without the services of their top forward Pablo Campos, but have plenty of fire power in their arsenal including off-season signing Christian Ramirez who netted the first goal of the season for Minnesota last weekend. Lead by Head Coach Manny Lagos, the Loons missed out on a third trip to the NASL Soccer Bowl last season after winning the title in 2011 and falling to Tampa Bay in 2012.
Expect to see a lot of energy from Fury FC who responded well to the raucous home crowds at Branchaud-Brière during their two home preseason matches last month. With the home crowd behind them, Ottawa Fury FC will look to net their first-ever NASL goal. Head Coach Marc Dos Santos has said that the club will approach each game as if it were a final. With only 9 games in the NASL Spring Season, points at home are vital in the race for the Spring Season Championship and helping qualifying for one of the four playoff positions. Ottawa will play 5 games over the next 14 days.
Saturday also marks the start of the three-game home stand for Fury FC who will host FC EdmontonWednesday night in the preliminary round of the Amway Canadian Championship and face the Carolina RailHawks next Saturday at Carleton University.