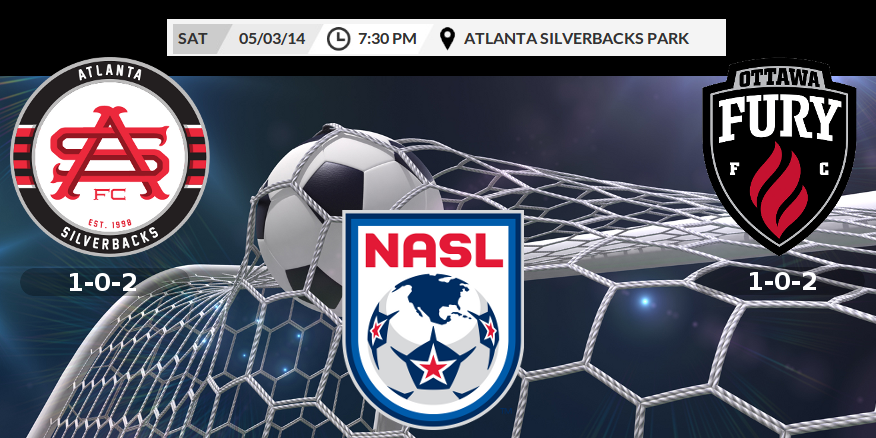 After a disappointing mid-week 3-1 loss to Edmonton in the Amway Canadian Championships the Ottawa Fury don't have much time to get ready for their next challenge Saturday an away fixture to face the Atlanta Silverbacks.
Atlanta, last season's Spring Championship winners, got this year off to a slow start before finally getting things going in their last match – a 3-1 win in Tampa.
The Fury coming off their third game in a week and sixth game in 21 days continue to suffer a rash of injuries with Maykon joining forward Tom Heinemann (ankle) and midfielder Nicki Paterson (knee) on the injury list. Maykon suffered a hamstring injury in the first half of last Saturday's 4-0 win over Carolina.
While disappointed with Wednesday's result in Edmonton the Fury coaching staff remains positive calling it their best offensive performance of the year with countless chances created (15 shots, 6 on target both season highs) – now to improve on the finishing. At this point, including Canadian Championship games the Fury have managed six goals on 49 shots in five games but four of those goals came in the win against Carolina. Otherwise the finishing touch has been noticeable in it's absence as the team has generated two goals on 39 shots (.051 rate) and only 12 shots on target in the four games outside of the Carolina victory.
Atlanta has faced similar problems despite out shooting (32-23) their opponents in the first two games, the Silverbacks only found the net one time. In Tampa, however, the flood gates opened. Midfielder Junior Sandoval put the Silverbacks on top after just seven minutes, and forwards Jaime Chavez and Deon McCaulay added a goal each, earning the team a well-deserved three points despite being out shot 29-16 in the game.
"I was really pleased with the effort and resilience that our team showed last weekend. To be able to go to Tampa, one of the toughest places in our league to play, and come away with a result was absolutely fantastic," Wynalda said. "Hopefully we can continue our winning ways this Saturday in front of our home fans."
"Ottawa is very much like us, in that they got off to a rough start this season. We saw last weekend, however, that they're a side with a ton of quality." Wynalda said. "They beat Carolina emphatically, and we have to be wary of that as we prepare for Saturday."
Fury Head Coach Marc Dos Santos has coached at Atlanta Silverbacks Park before. He was in charge of the Montreal Impact during their only NASL season in 2011 coming out on the losing end as his Impact side fell to the Silverbacks, 2-1.
"We know how important every point is in a competitive league such as the NASL," said Head Coach Marc Dos Santos. "Atlanta is always a difficult place to play, but we want to stay close to the top teams and get every point possible."
Following Saturday's match Ottawa will return home on Sunday after six days away from home that included the trip to Edmonton. Next up for Fury FC is a date with the storied Tampa Bay Rowdies at Carleton University on Saturday, May 10 at 7:00pm – the club's first night game at home this season.
ENGLISH RADIO: TSN 1200 – 7:30pm (Pregame show at 7:00pm)
FRENCH RADIO: None 
ONLINE STREAM: NASLLive.com 
TV: None 
Social Media: Follow the action @OttawaFuryFC and join the conversation using our official hashtag #UnleashYourFury #SoyezFurieux