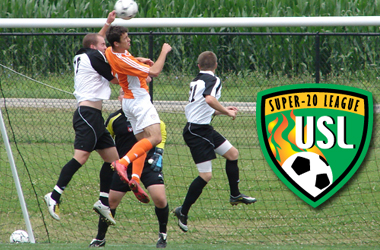 The USL has announced the alignment and schedule for 2014 with 44 teams, including two Canadian clubs set for the 2014 season.
The 44 teams will be divided among seven geographic divisions – Great Lakes, Mid Atlantic, Mid South, Northeast, Southeast, Southwest and South Atlantic. Teams will play 8-10 games during the regular season while competing for a spot at the 2014 Super-20 League Championship presented by Nike, set for July 17-20 at IMG Academy in Bradenton, Florida. Twelve teams will earn a trip to the event, with playoff allocations based on the number of teams in each division.
The Toronto Lynx Jrs. playing in the Great Lakes Division and the Ottawa Fury playing in the Northeast will be the only two clubs waiving the maple leaf taking part in a 196-game schedule which kicks off on Saturday, May 17.
Among the rule changes for 2014 are a "no re-entry" substitution policy that has been instituted to align the Super-20 League more closely with the professional standards employed by the PDL and USL PRO.
"There is a great deal of anticipation heading into the 2014 season as the Super-20 League becomes more closely aligned with the PDL, both operationally and competitively," PDL & Super-20 League Senior Director Ryan Brooks said. "As the emphasis on player development for 17- to 23-year-olds continues to grow throughout North America, the Super-20 League is uniquely poised to grow in its role as the development leader for the U20 age group."
2014 Super-20 League Alignment
The league was designed to cater to the top of the youth ranks in the U.S. and Canada for players aspiring to play professionally. It also serves as a reserve division for PDL teams, which are able to add Super-20 teams to expand their development goals as well as their player pool for the senior team.
"We have competed at a high level in the PDL and want to continue to build our development structure in our club," Ocala Stampede Executive Director Cheyne Roberts said. "The Super-20 League provides our club a chance to continue to develop players and evaluate talent that has the potential to compete on our PDL team in the future."
The Super-20 League features reserve squads for 12 PDL clubs in 2014 as well as teams affiliated with USL PRO's Harrisburg City Islanders and the Chicago Fire of MLS.
A pair of PDL-affiliated teams will be in action on the season's opening day on May 17 as the Westchester Flames welcome F.A. Euro. The season wraps up on Sunday, July 6 with 18 teams in action as the chase for championship berths concludes.
The Lynx open their campaign on May 21st against Detroit's AC Milan while the Fury will open on the road as well against historical rivals Blackwatch on May 31st.