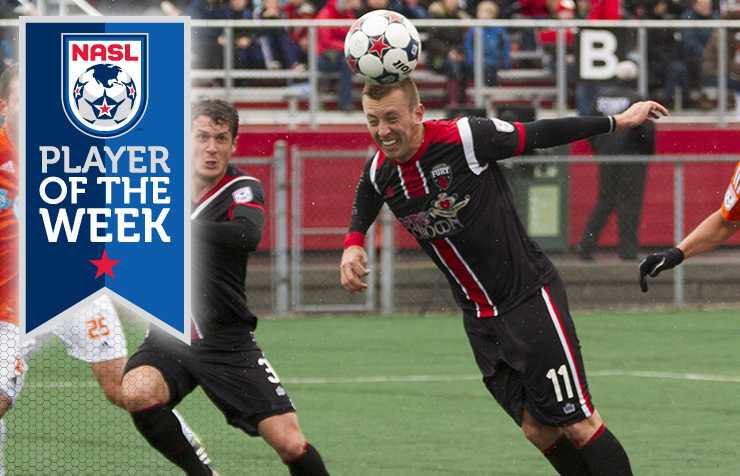 Fury Release – Brazilian forward Oliver Minatel of Ottawa Fury FC was named North American Soccer League Player of the Week after he scored twice and had one assist in the 4-0 home victory over Carolina RailHawks.
"I am very happy to be named Player of the Week," said Oliver, who becomes the first Fury FC player to win the NASL weekly award.  "This honor represents my teammates that all played very well and helped me score the goals. It was a great day for our club."
The native of Campinas, Brazil scored his first of two tallies against the RailHawks in the 34th minute off a corner kick from his teammate Philippe Davies to bring the home crowd at the Carleton University's Keith Harris Stadium on Saturday to their feet.
Reversing this combination, Oliver then assisted Davies in the 56th minute to push the Fury FC lead to 2-0.
Finally, in the 72nd minute, Oliver completed his day by heading home the team's fourth tally and ending the RailHawks' five-game unbeaten streak.
"We are really happy for him," Fury FC coach Marc Dos Santos commented on Oliver's performance.  "It's always good to have the Ottawa Fury FC represented by someone. His performance represents very well what the full squad did on the field. Oliver is still a young player that will grow in this league."
Prior to joining the Fury FC, Oliver spent three seasons with Portuguese side C.D. Nacional that included two years in the Primeira Liga. Oliver became the youngest player in Nacional club history to start in an international match when he was featured in their UEFA Europa League qualifier against Icelandic side FH Hafnarfjordur at 18 years of age.
Fury FC return to action on Wednesday night in Edmonton for the second leg of the Amway Canadian Championship Preliminary Round. FC Edmonton and Fury FC head into the return leg knotted a 0-0 with overall aggregate winner advancing to play the Montreal Impact in the semifinals beginning May 7. Kickoff from Clarke Stadium in Edmonton is scheduled for 7:30GMT (9:30pm EST). The match can be viewed online at CanadaSoccer.com/Championship or listened to on TSN 1200.