The game of the weekend or at least the one that received the most attention was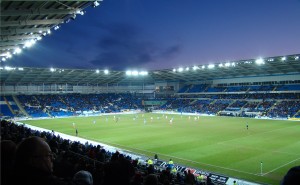 the English Premier League match between Chelsea and Manchester United.
Most analysts thinking that if the defending champions lost their title hopes for this year were finished while from the Chelsea point of view a win was needed to keep pace in what is looking more and more a three horse race between themselves, Manchester City and Arsenal.
Reflecting this importance the game received a great deal of pre and post game and has been dissected to minutest levels with different writers seeing, as almost always different things to highlight.
In broad strokes United are struggling with two key players, Wayne Rooney and Robin Van Persie out injured while Chelsea have been effective and efficient if not quite effervescent in their play so far this season.
David Moyes lined up United in a 4-4-2 which was effectively a 4-4-1-1 when surprisingly he pushed 18 year old Adnan Januzaj into a much higher and central role than expected.
Jose Mourinho's Chelsea up in his favoured 4-2-3-1 a formation that he has been working on since his return to London.
Here's what analysts from around the soccer world had to say after the game:
The always excellent Zonal Marking outlines the result here wasn't a great reflection of a tactical battle – but was the result of one team, Chelsea, being more efficient at both ends, rather than by any one strategy being more effective.
Read: Moyes' use of Januzaj proves clever, but United sloppy at the back
Arnab Ray and Vishal Patel from Outside of the Boot focus on the wing play – how important it was for both teams and how it dictated how both teams played and eventually in the outcome.
Read: Tactical Analysis | Wide areas make the difference
Kristian Jack over at TSN feels that Chelsea's midfield five hold the key to Chelsea's title hopes "but if Chelsea are to become the powerhouse Mourinho wants, the team needs to be able to attack better and counter and that was shown on Sunday against United."
Read: Mourinho Finds Chelsea's New Fab (Fundamental) Five
Michael Cox over at the Guardian looking at things from a United perspective asks if Moyes is wondering what more he can do, with his side playing decent soccer and even controlling the game in parts only to see the defence throw it away through individual errors.
Read: Manchester United's pretty passing offset by defensive errors at Chelsea
BBC pundit Robbie Savage points out a key factor in Chelsea success was containing United's speed up front by keeping their back four very deep throughout the game.
Read: How clever Chelsea saw off Man Utd threat
Richard Jolly from ESPNFC focused in on the individual attention falling on Samuel Eto'o who became only the fourth player to score a Premier League hat trick against Manchester United in what Jolly calls "a master class of efficiency."
Read: Eto'o the master of efficiency
Final result: Chelsea 3, United 1 in a game that showed two teams headed in opposite directions Chelsea ascending and United headed the opposite way.