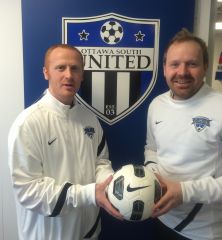 Ottawa South United is pleased to announce the hiring of Paul Turner and Simon Wilshaw. After an extensive search, Ottawa South United has found the right candidates to oversee and positively influence OSU players and coaches. With a long standing tradition of success locally, provincially and nationally, the hiring of Turner and Wilshaw signals intent to continually improve our technical standards.
Paul is originally from London, England and has resided in Vancouver since 2009. During his time in British Columbia he has been leading the North Shore Talent Development Centre. In addition, he has served as a head coach for the B.C. Provincial All-Star teams (Girls). Most recently Paul has been coaching for Mountain United Football Club in the B.C. High Performance League. The B.C.H.P.L. follows similar rigid standards to the newly adopted Ontario Player Development League in Ontario. (O.P.D.L). Paul holds a National B coaching License.
Simon is originally from Stoke-On-Trent, England but has resided in Connecticut since 2011. During his time in Conneticut, he has been working with Everton F.C. Connecticut, an affiliate club of The famous Everton F.C. of the Engilish Premier League. In addition, he has also served as an International Development Coach with Bolton Wanderers Football Club, where he was responsible for delivering their methodologies internationally. Wilshaw holds his UEFA 'B' License, along with the English Football Association Youth Modules, with a specialization in player development at the younger ages.
The hiring of Paul Turner and Simon Wilshaw speaks to our mandate to constantly expand and improve our coaching staff. We feel that they both will have a tremendous impact on players throughout our club and are excited to have them join the OSU family." Paul Harris, OSU Technical Director noted.