The Netherlands Maarten Stekelenburg did not have a bad game today, in fact his efforts for the Dutch probably saved them from a much less flattering scoreline than they suffered at the hands cialis of Germany.  Stekelenburg, currently with AS Roma and a product of the Ajax youth system, unfortunately could have however dealt better with the goal that ended up being the winner in a 2-1 scoreline.
Mario Gomez, the scorer of both German goals proved he can dazzle with the best. On his first strike, he took the ball with his back to goal, pirouetted around to put the ball on his other foot and drove home and while Stekelenburg was perhaps late to react he could not be faulted.  For the second one, Gomez set up a one-two with Bastian Schweinsteiger, raced through the defence and finished from a tight angle. An angle that Stekelenburg overplayed right from the initial moments…
Stekelenburg initial overplaying of the angle and failure to set himself led to a number of errors compounding themselves and allowed a stoppable shot to find the back of the goal.
First lets take live sex chats a look at Stekelenburg's initial position – which is already to the left of the shooting line and well overplayed to his near post.
Stekelenburg compounds the situation by continuing to move to the left and crosses up his feet during the movement.
The movement of the goalkeeper through momentum takes him far wide of the proper line which is now two yards to his right.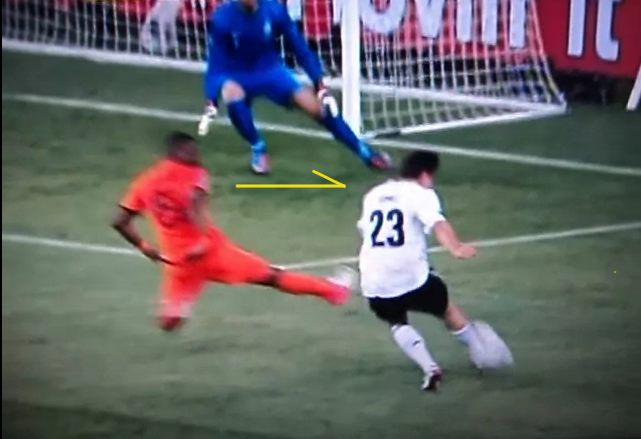 The effect of not being set combined with momentum and a last second attempt to get back to the shooting line causes Stekelenburg to go into a falling/collapse movement which takes him directly out of the path of the ball.
While Stekelenburg almost gets a hand to the ball despite his awkward positioning a stoppable shot does nestle into the far side of the goal giving Gomez his second and Germany the win.