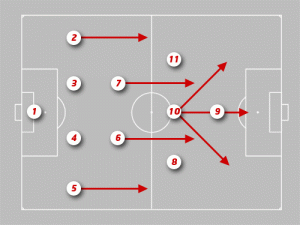 Richard Jolly over on ESPN's Euro 2012 page has an excellent overview on the tactical developments so far in the tournament – "The Death of the 4-4-2".  In my opinion, the four man midfield has been dying a slow death for many years and England's demise at the hands of Italy in yesterday's final quarter-final only underlined the reason's why.
As Jolly points out, "The need for five players in the midfield area, and three in the centre, is ever more apparent, whether by playing 4-2-3-1, 4-3-3, 3-5-2 or 4-6-0. Teams with a midfield quartet have found themselves outnumbered and out-passed except when playing sides with a similar shape."
While I remain unconvinced by the use of a "false nine" in Spain's 4-6-0 (4-3-3-0) Jolly is correct in that today's possession based game the result is most often decided in the middle of the playing area and if, like England, you cede the midfield – you cede the game.  Midfield dominance in possession combined with directed defensive pressure to win early possession in the attacking third is the way forward.
It will be interesting to see in the remaining EURO 2012 matches how teams will try to find space in what promise to be very crowded midfield areas with Spain (4-6-0) facing Portugal (4-3-3) and Germany (4-2-3-1) taking on Italy who will likely line up with a 4-3-1-1-2 after early experimentation with a 3-5-2 in the tournament.
Whatever the outcome of these two games the days of "two banks of four" seem to have finally faded.