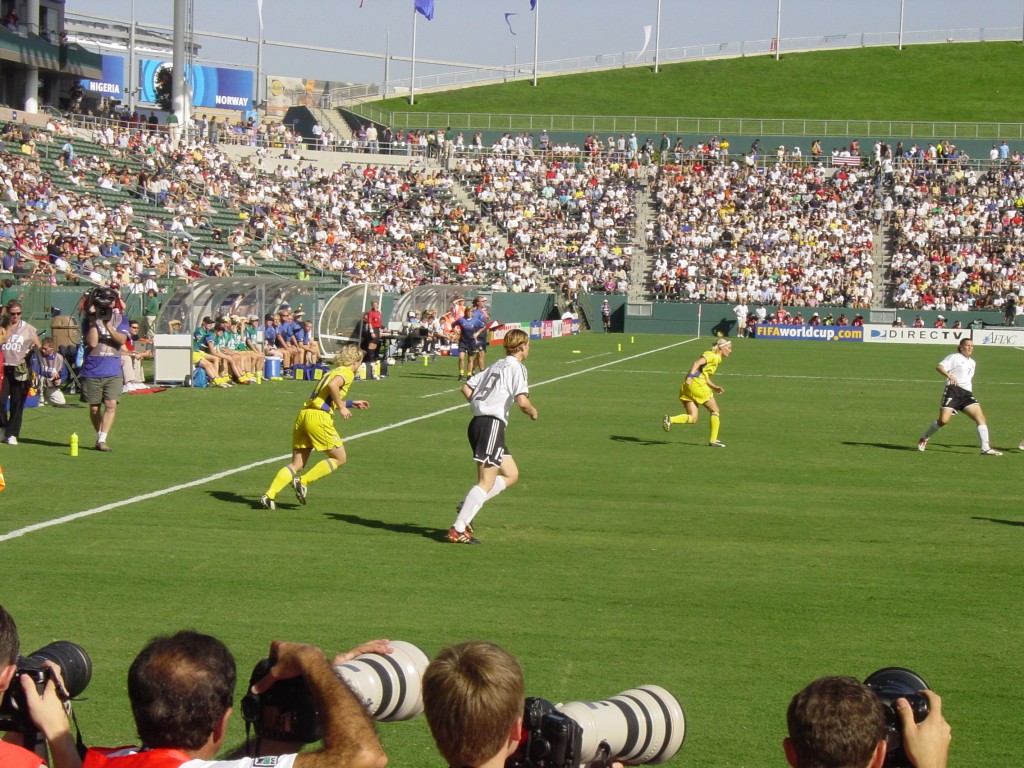 The German plan in a nutshell: find the top kids among 80m Germans who can really play soccer, train them well, & get them to a pro club.

— Chuck Bales (@SoccerCTC) July 15, 2014
Sounds simple enough.
Coach Bales is right though. For all the words that have been spilled about German soccer's revitalization over the past decade it really does come down to – identifying, educating/training and refining talent. Mix in some funding give it some structure and seemingly like magic World Championships are yours to be had.
The reality is that for any country, let alone a soccer challenged country like Canada looking to emulate the German emergence you have to realize that Germany didn't exactly "blow things up" and start over. The building blocks for success – infrastructure, professional structure and cultural identification were all in place what was needed was a vision and a willingness to implement the plan.
Here in Canada, with isolated exceptions, we struggle in almost all talent oriented efforts, our infrastructure is not what it should be for a country of our economic standing and our nascent professional structure is just beginning to find it's legs with even more promise just over the horizon.
The challenge then is what lessons can we take AND apply on the field here in Canada from not just the German effort but others around the world.
In it's simplest form it really does come down to identifying, educating/training and refining talent. For Canada historically our attempts have been hit and miss in identification, we have no coordinated standards based training plan and have lacked a place for our best to refine their talent.
The last element in changing and changing quickly it seems – with three MLS sides, two and a seemingly expanding NASL scene and the recent addition of Ontario's League1 to the mix (and hopefully more to follow elsewhere) means that there are more and more places for the best players to play. If anything there may be a shortage of quality players to fill all the places that are quickly appearing.
Which means identification and development of talent has quickly become even more vital if we want to see this burgeoning pro scene to grow and prosper over the next 12 years.
Why 12? One reason the Canadian Soccer Association's stated goal of hosting the 2026 World Cup. We don't want to repeat Montreal '76 and while being the "host with the most" is not going to happen we have the time to work at not being embarrassed as well.
Most importantly any plan that seeks to rewrite an entire country's methodology and reasoning for talent development is going to take (at least) that long to bear fruit. Whether Canada hosts a World Cup or not it is immaterial to the fact that we need to do a better job developing talent for a professional scene that in ten years time could see 3 Tier One, 9+ Tier Two and a couple of dozen, if not more Tier Three teams. That's more than 500 professional level players (not including overseas players) for a country that currently in country optimistically has a few dozen?
How to start? Coaching.
We need more, many more, well trained and educated coaches working with not our best teenagers and older players but ALL of our current 8 – 12 year olds. All of them because at this point we cannot afford to be wasteful of any potential talent. Our talent pool currently is wide but shallow – we need coaches trained to maximize and then identify the best for the next stage.
Easy enough to say. How to execute?
The Canadian Soccer Association needs to do two things – publish a national curriculum and secondly establish a Canadian Youth License – immediately. By year end 2014.
The curriculum is "in the works" they continue to say. Stop. Publish it. Lead, follow or get out of the way. A diagram won't cut it – use your contacts internally and externally to obtain the information needed, brand it and ship it.
The Canadian Youth License – should be exactly that. A Canadian attempt to provide a Canadian solution to a Canadian problem. Our kids are not German, Spanish or even American – this is not Germany, Spain or the United States. There are differences in culture, motivation and attitude – they deserve to be addressed that way. Even technically we're different to some degree our tendency (our players as well) is to think everything can be solved by being faster, stronger and bigger and in soccer it's not always the case.
Build a team of teachers (they're already here) and set up one week intensive courses regionally for coaches to attend and get educated, assessed and certified in everything they need to know to coach up to the age of 12. No more. No less. Eventually set up weekend and week night opportunities for continuous learning opportunities and allow for a secondary entry path to the licensing.
Make them affordable – don't look at the courses as revenue generators but revenue neutral at best. Beg, borrow, steal the capital from other projects – get FIFA to pay for it – just get it done.
No grandfathering in. No equivalence. This is not the same information that our other licenses contain this is all about the player 12 years old and younger – their needs, motivations and technical aptitudes. This is not systems of play and fitness optimization – this is the how, why and when of individual and basic group play.
Take the existing material for Active Start, Fundamentals and Learn to Train and bring in the additional non-technical material already developed and allow these courses to be a cross-pollination of ideas not a top down lecture adl embedded solutions. What's working and what's not and use the feedback to refine the material.
Get 200 coaches certified as CYL Coaches by January 2015. Another 200 by December and triple those numbers by year end 2017. After that establish a goal of re-certifying or bringing online 300 CYL a year until 2026 with the target of having every certified club in Canada having at minimum one active CYL on staff.
Impossible? Not at all. It does take action bigcitymaids.com. One step. Establish a single line on your web site ask the following question.
"Would you like to receive further information on the Canadian Youth Coaching Licence and opportunities to become certified as it becomes available?" If you don't have 500 responses by September we probably don't deserve to improve at this game let alone host a World Cup.
Do all this and in the end we will not be Germany and we won't win a World Cup in 2026 but I GUARANTEE you will see a change in not just the technical ability of our players at all levels including professionally but an adjustment in the attitudes and reasons people are involved in this game in the first place.
Right now, thanks to Germany, we are in serious need of an attitude adjustment.