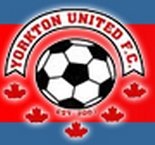 Yorkton United Football Club (YUFC) tried something new this year: They fielded a team from Yorkton to compete in the month-long World Cup Soccer Tournament in Regina, a tournament in which Canadian players compete for and represent countries from around the world in a World Cup style tournament.

Coaches Andy Wyatt and Benno Looft led the Under 12 Boys Team Germany to the final game which took place at Regina's EventPlex indoor soccer field on Saturday, April 26 where the boys earned a silver medal against Team England with a score of 3-1.

Yorkton's Jairus Pellatt scored the lone goal for Germany in the final.